HOME
COMPANY
PRODUCTS
CUSTOMER SERVICE
REQUEST LITERATURE
NEWS
CONTACT US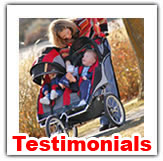 "Dreamer Design is proud to announce our Spotlight Dealer of The Month" Happymothers.com

The dreams we design today, create the products for tomorrow's family.
We are committed to the search for ways to make our products more convenient for you, while safe and comfortable for your child. We pride ourselves on the innovation, thoughtfulness and quality of our product designs. All Dreamer Design products are backed with one of the strongest warranties in the business. This requires that we research only the best quality components, and test them thoroughly. As parents ourselves, our integrity demands it!
What Others Are Saying…
Park Avenue Review from Hollie Schultz of Babygizmo.com
Dreamer Design Park Avenue Stroller
Dreamer Design's answer to the Luxury Stroller Craze In response to the luxury stroller craze, Dreamer Design has debuted its newest stroller, The Park Avenue. The Park Avenue is a lightweight, 3-wheel, all-terrain stroller that not only looks good but also has some pretty great features. The first thing we noticed about the stroller is how lightweight it is. Even though it is said to weigh in at a total of 24 lbs (including the incredibly lightweight seat of 5 lbs), this stroller seems lighter to us than many other luxury strollers on the market. … (for full review…)
To all the Terrific Staff
I want to send a great "Thank you" to everyone that helped us with our Dreamer Design Ditto Stroller…The "cast' at Disney thought the Ditto was one of the finest strollers they had ever seen. Two of the many comments we heard were: "That is a Mercedes-Benz stroller" "It looks like an SUV and drives like a Cadillac" (keep reading…)
You ran how far?
…I've been able to train for the Boston Marathon with my 4 year old son using this stroller…When I planned a 17 mile training run and my babysitter canceled at the last minute, I packed up the Rebound Lite stroller and took my son with me (keep reading…)