Company
At Dreamer Design, we are proud that our team has many years of design and manufacturing experience in the Juvenile product and Bicycle industries. We have taken these skills and used them to develop and create some of the industries finest products.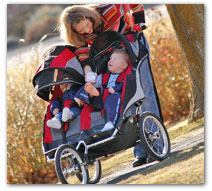 Dreamer Design was incorporated in 1998 by Teri and Greg Durrin, the company lives by the philosophy that everyone who works at Dreamer Design is extended family. Our family values carry over from the culture within our company to every product that we design and manufacture.
Our variety of products is well suited to the varied lifestyles of today's families. From our all-terrain jogging strollers and city lifestyle strollers, to our Axiom line of mobility strollers, our products are created with one goal in mind; to provide the highest quality and safest stroller products for your family. As parents ourselves, our integrity demands it!
Our team takes as much pride in our customer services as we do in the products we create. We believe that once you purchase one of our products you become a member of the Dreamer Design family. That's why we offer one of the industries best warranties and back it up with friendly and helpful responses to your needs. Just what a member of the family should expect!
So come experience our products and see "The designers that we are", the dreams that inspire us to be.